What is a sidechain plug-in?
Electronic music has become more and more dense during the last decade, and this makes the pivotal sounds, the kick and the bass, harder to mix.
Having a big and punchy kick that doesn't interfere with the bass integrity is a challenging task, and here's where sidechain plug-ins come in handy.
Being able to create a tight relationship between these two elements is crucial if you want to achieve a solid low end that blows the speakers.
Free
These plug-ins are all available for free. However, this doesn't make them not worthy of your attention.
PechenegFX AutoSwell Light
AutoSwell Light is an automatic volume swell effect triggered by the input signal. It's the demo version of the AutoSwell Pro.
The GUI isn't among the most appealing, but it's still a free option!
Budget
These plug-ins are all for sale. We can say that they're all worth more than what they cost. If you want to commit to some expenses, this is the place to start. In this case, they don't have much to envy to Top tier alternatives.
Nicky Romero Kickstart 2
It's the new version of one of the earliest plug-ins of this kind, and it earned a lot of lovers across the years.
Kickstart is a volume shaper that features three main components: the amount knob that determines by how many dBs the plug-in ducks the signal, the curve selector to pick the ducking shape you need, and the length selector (1/1, ½, ¼, ⅛) to choose how long the whole ducking curve should be.
Kickstart 2 allows to move the envelope earlier or later so you can fine tune the length of the ducking, which overcame the scarcity of lengths previously available.
This new version also solved the lack of MIDI triggering, making it not only a tool for 4/4 tracks!
It's a simple tool, and it does it's job very well.
Devious Machines Duck
Duck makes it easy to design a custom volume shape that repeats at a speed and depth of your choice, or use one of 58 presets to find new and inspiring effects. As well as sidechain compression, Duck is capable of trance-gating, tremolo and any other volume effect you can think of. For more control, enable split band mode and adjust the separate low and high frequency controls. Duck can also be triggered with audio from a sidechain input or by MIDI notes, making it easier than ever for hip-hop and bass music producers.
It offers eight default curves, but you can also draw your own.
The low CPU usage means you can run it on loads of tracks. 
Get it at Plugin Boutique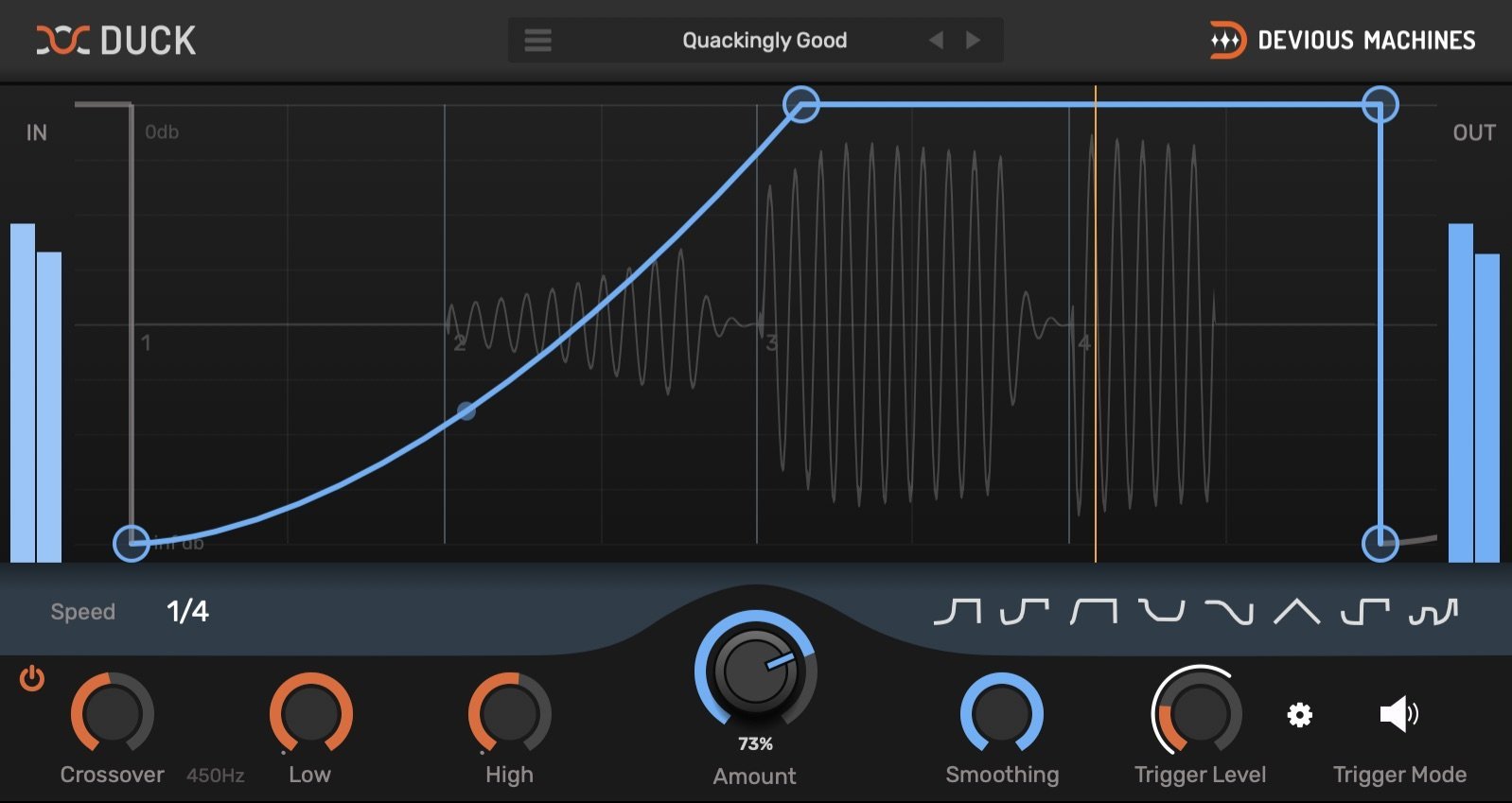 Waves OneKnob Pumper
This plugin is not among our favorites. It's lacking two key things. 
First of all, there's no curve selection. Then, there's no MIDI triggering.
The only nice feature is the Offset parameter that allows establishing when the sidechain is kicking in.
It's ok for 4/4 tracks, but almost inefficient if you plan to do something else.
W.A. Production Dodge Pro
Whereas most volume shaping plugins process the entire signal, Dodge Pro can split the audio into 3 frequency band ranges and apply different volume shape automation to each band.
The processed audio can be seen as a waveform in the centre of the interface, either by full frequency or split into the 3 bands. The ducking is also shown via the mini-meters. Other options for UI feedback include a scalable interface and left / right monitoring.
The unique feature of this plug-in is being able to set Mid, Stereo or Side processing to each individual band.
Among this list, it's one of the best picks.
Get it at Plugin Boutique

XFer LFOTool
Probably the plug-in that started it all, or at least the one that made this type of processor really popular, especially in EDM and bass-heavy music.
It's plenty of features! You can draw the shape you want, you can visualize how the input signal is being ducked, it's probably the plug-in with the widest MIDI trigger alternatives.
But it does more than that, it empowers music producers to create tremolo, auto-pan, trance-gate, and dubstep-type wobble effects with minimal effort.
You can use the Split function to process only a specific band. Also, you can set 12 curves that you can switch among.
There are up to 4 simultaneous graphs(Cutoff/Reso/Pan).
The preset library allows users to experience this plug-in at its full potential.
It's only lacking multi-band processing, but that's a very negligible considering that it's been released back in 2012 (with the latest update being released in 2015) and it's still outperforming most of the similar and more recent plug-ins.
It's definitely an evergreen plug-in.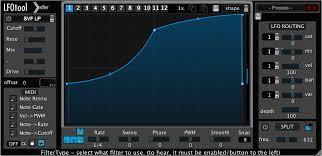 Cableguys VolumeShaper
VolumeShaper pre-dates all of the other sidechain pumping plugins (v1 came out in 2007, v2 in 2009, v3 in 2012).
It has the huge plus of multiband processing. Also, the curve editor offers a lot of handy tools. It comes with MIDI triggering, making it good for any type of track.
It also features a Mix slider for every single band, making uber transparent ducking possible and easier than ever.
The only little con is the few lengths (1/1, ½, ¼), but the wide curve editor allows you to make tight ducking curves, so that's actually not a real problem.
Shaperbox is a valid, and more complete, alternative too!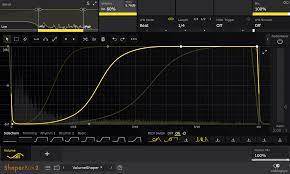 Get it here: https://www.cableguys.com/shaperbox.html?pid=41
Wavesfactory Trackspacer
This plug-in is different from all the others in this list. It's a dynamic EQ that makes cuts in the frequency spectrum mirroring the frequency content of the sidechain input signal.
If you're looking for the obvious ducking sound, this is not the best pick, but if you need to sidechain your instruments to your vocals for example, this is among the very few plug-ins doing the job flawlessly.
It's CPU intensive, especially on busy projects, so make sure to optimize its use by not using many instances of it.
Get it at Plugin Boutique
Polyverse Gatekeeper
Polyverse and Infected Mushroom are synonyms of nerdy plug-ins. Gatekeeper is a volume modulator capable of producing sequenced volume patterns, MIDI gates, stutter effects, ducking (pseudo sidechain), planned dynamics, creative gain clipping, and more.
Get it at Plugin Boutique
Soundspot Evade
This plug-in is an honest variant of LFOTool, but it comes with multi-band processing.
Also, it has the cool feature of switching the monitor between waveform and frequency spectrum, allowing you to see how you're carving space in the mix.
Another unique feature is that it allows the application of Mid/Side processing.
The Envelope Playback Flip function makes it possible to listen to what you're ducking rather than only listening to what's being left.
Get it at Plugin Boutique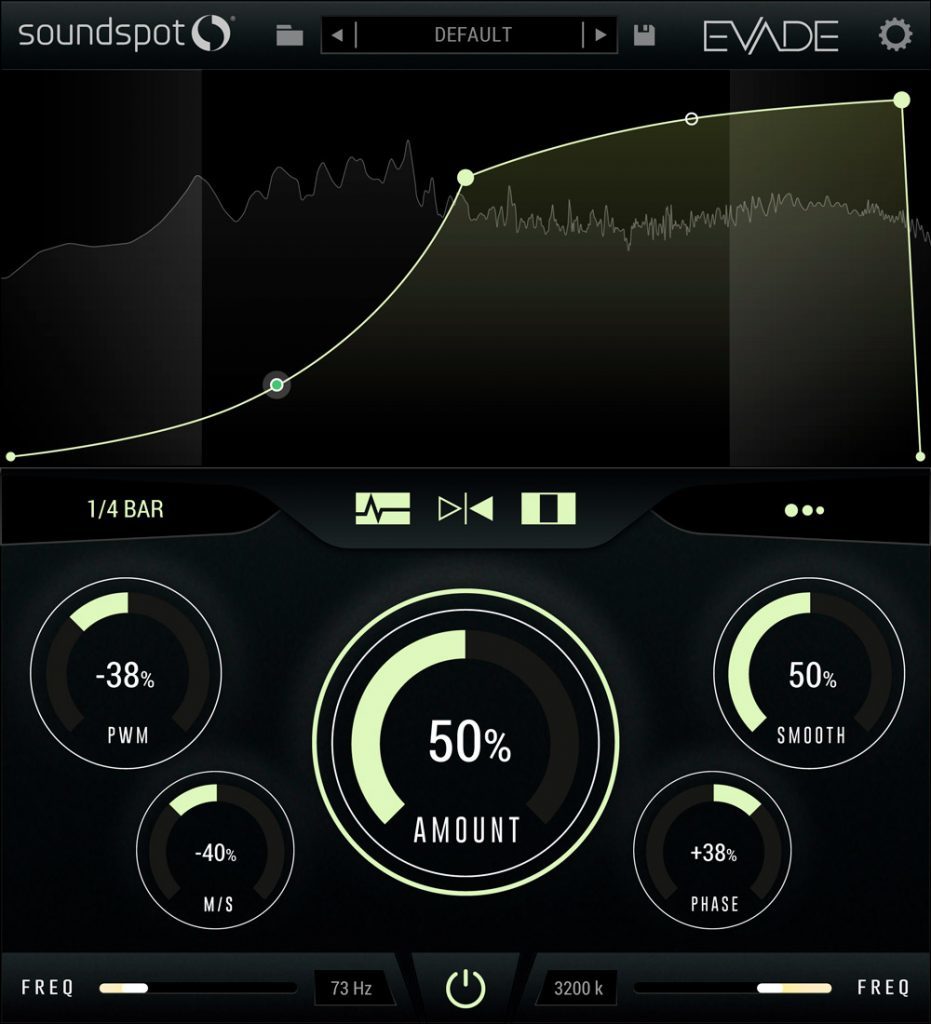 MeldaProduction MRhythmizer
This plug-in is crazy, and it can also help with fixed-length sidechaining. To be honest, if you're about to invest into a plug-in that does this job well in all scenarios, this shouldn't be your first pick at all as there are plug-ins better focused on ducking in this list.
Top Tier
These are the elite of the digital realm. They require some commitment to your wallet, but the number of features and the quality of performance they offer is among the very best you can find around nowadays.
All these tools will make your life easier in one way or another. They don't have the magic of doing the job for you, but they will definitely help you deal with ducking the best way possible.
Sweetsonics Laser
Laser acts like a sidechain compressor with multi-band processing. It offers controls for three bands, and also useful visuals to see how each band is being ducked.
The feature of the Hold knob makes it better than most sidechain compressors.
Stereo, Mid and Side processing are available.
Two detection modes (Transients and Continuous) allow for a more accurate response from the plug-in based on your needs.
The Offset parameter can help with compensating eventual latencies or delaying the ducking if necessary. 
Get it at Plugin Boutique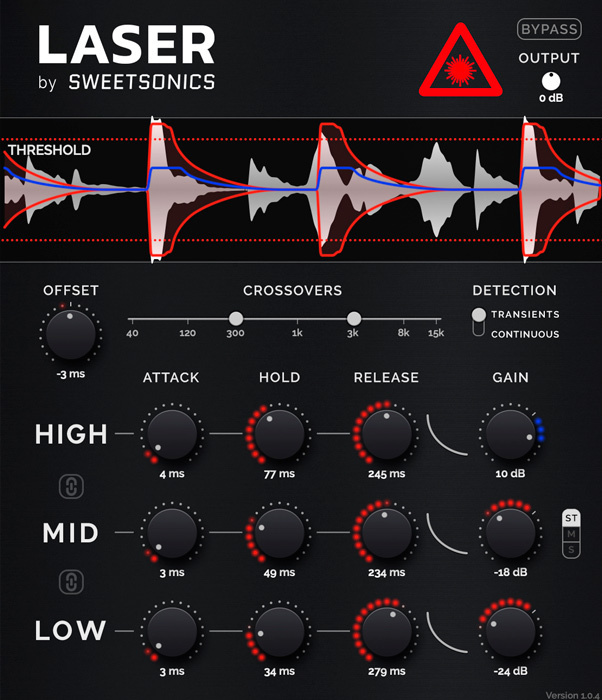 Vengeance Multiband Sidechain
This plug-in is among the best in this list, totally worth the price. The interface is quite different than the rest of similar plug-ins, and that might make it look a bit confusing.
The big con is that you need an eLicenser dongle to use it. Quite a bummer.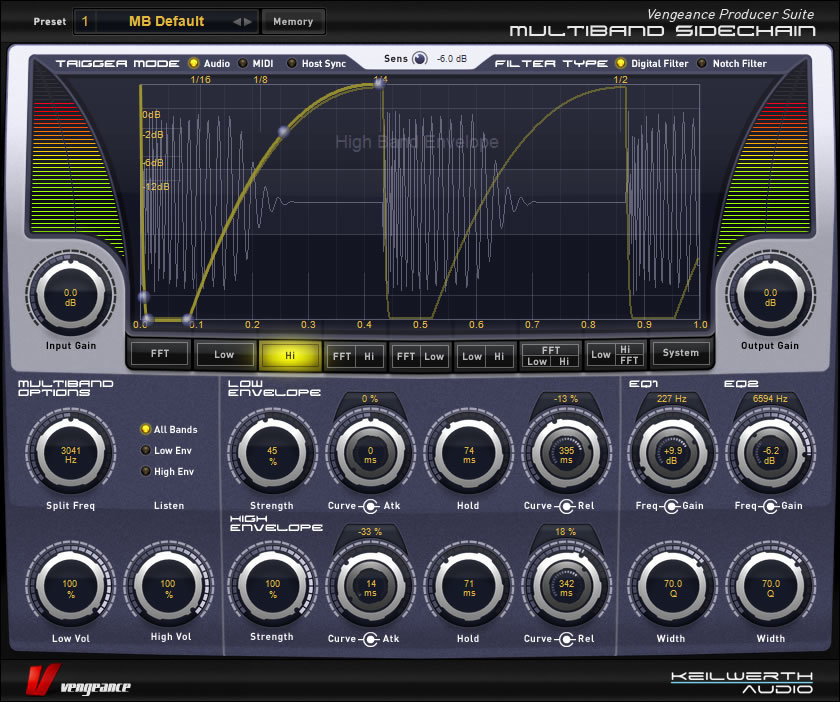 Magix CoreFX VolumeFormer
It's a nice plug-in, but it only comes with the CoreFX Suite, which includes a full suite of nice plug-ins. If you're looking for only a sidechain plug-in, we do not recommend investing in the full suite as this plug-in is still lacking many features of other alternatives in this list.
It'd be nice to have it purchasable individually though.