What is a semi-parametric EQ?
A semi-parametric EQ is an EQ that lacks one or more parameters, and the most common are the Q and/or the frequency.
This kind of EQ is meant to shape the tone of audio rather than correct minor problems, therefore, their effect is meant to be more perceived than most common parametric EQs used for polishing sounds.
Free
These plug-ins are all available for free. However, this doesn't make them not worthy of your attention.
Acustica Audio Coffee The PUn
A free plugin by Acustica Audio is always welcome! The PUn is an EQ with a big sound and aggressive character, but who can also treat your source with respect, awaking its inner potential.
It offers a pre-amp and two bands, with the low one coming with boost and cut knobs.
Analog Obsession MASBAX
Looking for more free stuff? Analog Obsession has MASBAX, a 3 band equalizer with plenty of options and a transparent sound.
Another interesting feature is that you can boost or cut only by steps of 0.5 dB each, making it a tool that doesn't allow for "do nothing" tiny tweaks. 
Analog Obsession Rare
Looking for even more free stuff? Analog Obsession offers Rare for free, which is a Pultec-style EQ. The really cool thing about it is the input gain knob that allows saturating the sound prior EQ'ing.
The sound is not a perfect copy of the Pultec, but it still sounds incredibly good, and that's what I care the most about.
It's so good that it's currently replacing my the instances of the Waves Puigtec in my projects.
AudioThing blindfold EQ
Special features in this model are the soft clipper, rarely seen in EQs in general, and the On/Off button for each band.
Most EQs don't come with the latter, making every EQ move a bit difficult to evaluate on its own unless they offer an A/B switch.
You can get a great workflow for free thanks to AudioThing!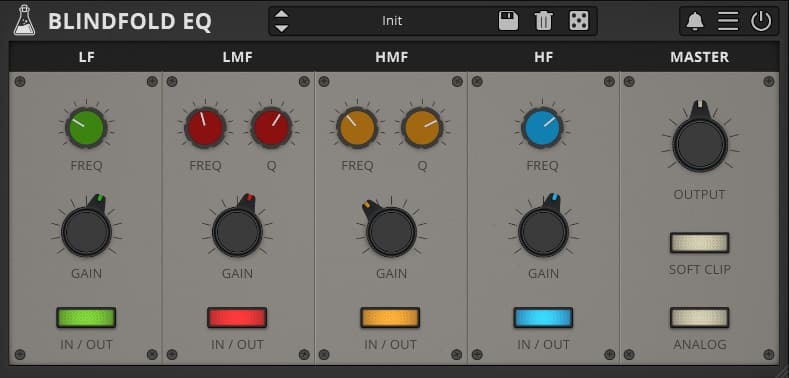 Kiive Audio Warmy EP1A EQ
The Warmy EP1A Tube EQ is a 1 to 1 analog modeled plugin based on a modern take on the classic pultec EQs. Includes low and high boost/cut as well as a tube emulation intensity knob. What makes it different from other plugins of the same kind is that it offers an oversampling switch. 
Ignite Amps PTEq-X
PTEq-X is a digital emulation of 3 famous vintage passive program equalizers. The three different equalization modules with a perfectly analog curve response even at the highest frequencies make this plugin stand out among the majority of this list if we consider the sonic capabilities we can get the advantage of.
The three hardware units emulated by this plugin are incredibly expensive, and this plugin delivers their sound for free.
TDR VOS SlickEQ
A mixing/mastering equalizer designed for ease of use, musical flexibility and impeccable sound. In order to warm up the material with additional harmonic content, SlickEQ offers a switchable EQ non-linearity and an output stage with 4 different saturation models. These options are meant to offer subtle and interesting textures, rather than obvious distortion. The effect is made to add the typical "mojo" often associated with classy audio gear. 
Budget
These plug-ins are all for sale. We can say that they're all worth more than what they cost. If you want to commit to some expenses without breaking the bank, this is the place to start.
TDR Slick EQ
A fairly complete semi-parametric EQ, but the most notable feature here is the EL Curve, which emulates the Fletcher-Munson curve and it works wonders when you want to listen to your master at low volumes while keeping the spectrum balanced. If you don't like it for any other reason, but you care about having fair low-level monitoring, then you should add this plugin to your toolbox.
Waves Puigtec EQP-1A
The legend. The Pultec EQP-1A is renowned for its unique ability to boost and cut the same frequencies simultaneously, thereby creating a resonant shelf.
Mostly used for the boost and cut trick on bass sounds and kick drums.
Also, running a sound inside it warms it up by default.
​​Waves V-EQ4
Modeled on the highly sought-after 1081 console module, this classic 4-band equalizer features detailed high frequency boosts plus High Pass and Low Pass Filters. 
The V-EQ4 captures the characteristic sound of vintage analog gear while providing the limitless flexibility and versatility of the digital environment. 
There's also a 3 bands EQ in the V-Series bundle.
Top Tier
These are the elite of the digital realm. They require some commitment to your wallet, but the number of features and the quality of performance they offer is among the very best you can find around nowadays. The sonic character is the main thing you should consider when pulling the trigger on the buy button.
All these tools will make your mix sound the way you want. They don't have the magic of doing the job for you, but they will definitely help shape the tone in the best way possible.
Chandler Curve Bender
Based on the vintage EMI TG12345 desk from Abbey Road Studios, Chandler Limited's Curve Bender EQ isn't just a recreation of the legendary hardware. It takes the sonics of the vintage EMI unit and blows it up into a powerful mastering EQ. It's the only authentic emulation of such a legendary unit.
Get it at Plugin Boutique
Mäag Audio EQ4 
The Mäag Audio EQ4's unique design allows for exceptionally low phase shift across all EQ adjustments, which helps maintain the integrity of your mix's original sound while enhancing the "Airy" frequencies.
It's considered a staple by the most. The Mäag Audio EQ4 is a musical EQ, not a surgical EQ, making it ideal for sweetening tracks, and it works at its best on vocals.
Native Instruments Solid EQ
The SOLID EQ is a versatile, 6-band equalizer plugin. Available separately or as a part of the SOLID MIX SERIES bundle, SOLID EQ delivers instant, transparent results and boasts a clean new interface for dialing up professional sound with total ease.
It's among the best tools to give your sound a different tone, and it works wonders on the low end and the top end. The HMF band works great on dull vocals. 
Native Instruments Enhanced EQ
As a part of the Premium Tube Series, this plugin is ideal for sculpting the low end and the midrange. It also comes with a high-cut module. That's it.